[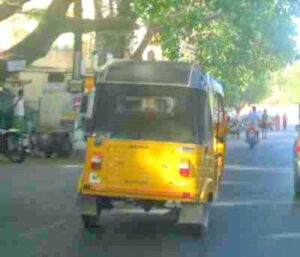 ][1]Just got back from the town. So many contrasts, so much poverty, so much deception, so much weird stuff. Several million people, bigger than London, and this is nothing like the capital. Huge numbers of beggers, homeless, etc. and the other people just shoving them out of the way, not caring, or worse. And so strange seeing thousands of idols everywhere.
Traffic is insane here, there are so many auto rickshaws. Imagine a 2 wheel hand cart, attached to a motorbike, and its slightly less posh than that. All metal.
Weather is pretty hot. Not too bad, for me. But if outside a long time in sun, for the Finnish, or whatever, it's bad.

[1]: http://blog.madprof.net/wp-content/uploads/2006/04/auto1-1.jpg
2006