Today we went a bit mad with a jigsaw. We cut a huge ugly hole in the main lounge desk, and found we'd cut into a structural support, and that the muppet who installed the whole desk made it all to NOT line up with the bottom desk supports.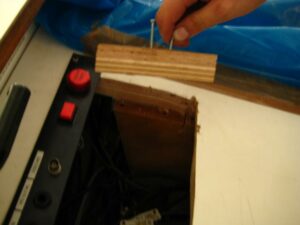 So we had to screw all kinds of things together (literally. We borrowed two electric drills).
At this point, we realised that the AV manager would be coming back to the ship after three weeks away during dry dock.
We also realised that she would NOT be happy with a dirty great ugly hole in the middle of the AV desk. Also that we were kind of stuck, as the jigsaw wouldn't fit under another part of the desk to finish re-cutting the hole…
So we pulled even more of the desk apart, cut more holes, screwed things back together, drilled dholes, and generally had lots of very stressful fun.
The other AV guy was sweating like crazy. I was laughing and loving it, in a stressed kind of way. Kind of like the waterman thing, leaving port with transferring water all around, ballast tanks, and overflowing, flooding places, and so on.
Fun, fun, fun.
Anyway, we eventually got it all back to a fairly good state. It all looks pretty good now: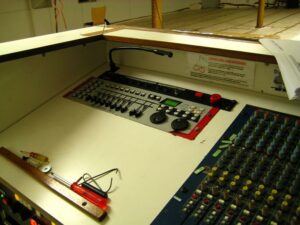 I won't post a hi-res photo.
Anyway, the lights are working well too. We need a few sockets for the ceiling – we'll buy them in Manilla. Otherwise things seem sane and happy.
[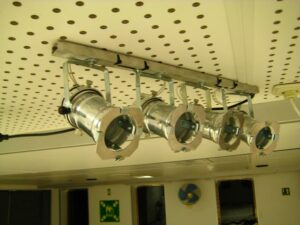 ][3]
Those lights can be put anywhere in the ceiling – we can position them in any place! It's great.
We also pulled the AV computer monitor out of the rack mount, managed to get a small LCD display from IT, and replace it with this. Now no more evil flickering and madness from engine/ship magnetic interference.
That was horribly complex too, with the other AV guy lifting the monitor from the back of the rack, and me trying to fit it through the hole on the other side with a screwdriver.
Anyway. All seems well.
We've also taken all the video tapes out of the wall, and put them in boxes. The carpenters will take out all the shelves and make us some wall mounts for the lights and cables, so we can keep them there. We never use the video library anyway (well, hardly ever). Hopefully we can make it all more efficient and sensible (and fun!) around here.
[3]: http://blog.madprof.net/wp-content/uploads/2007/11/lights.jpg
2007